News & highlights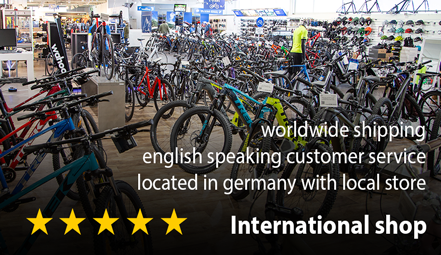 ---
Bicycle shop with bikes, cycling apparel and accessories from all top brands
Purchase a new bike online? It's no longer unusual these days! Huge selection of goods and brands speaks in its favor. Good shops offer one-stop shopping for cycling acces­sories, spares and bike wear. All that is not a problem these days. No matter if you would like to buy a mountain bike or a road bike, a ladies' bike or a children's bike, you will find a huge selection of all these goods on the internet. But, the vendor should know what you are after, plus the price should be low enough to convince you. Look­ing for a test ride of the new bike and expert advice? Welcome, you will find all that at HIBIKE! No matter if you are going to visit our retail store in Kronberg or just taking a look at our bikes, parts and accessories online shop. We can offer Specialized and Trek from one source! In addition, we can offer many more premium brands such as Santa Cruz, Haibike, Coboc, Kona, Salsa, Suryl, Bergamont and Ghost!
About HIBIKE: MTB, road bike, E-Bike & more
We are your mail order selling for more than 25 years. Our online shops offers almost everything that has to do with mountain bikes, E-Bike, road bikes and utility bikes. We have star­ted in a garage with the import of suspension forks - nowadays HIBIKE belongs to the leading mail order sellers of bike accessories and cycling apparel. Located in Kron­berg( Rhine-Main-area, in the middle of the tri-city area of Frankfurt on the Main, Mainz and Wies­baden) we have the chance to practice what we preach: Riding bikes! This area has lots to offer. Big climbs and descents around the Gros­ser Feldberg mountain just nearby our store and remote road bike tours in the northern Taunus area are waiting for us every day. Mountain bike, cross country, downhill or road bike - we feel comfortable with any bike category. You will find an expert for any kind of riding in our shop - active road racers, weight wee­nies looking to save grams, downhill racers, single­speed lovers, dirt jumpers, commuters, long distance racers, cross coun­try riders, singletrack fanatics and many more. This is our specialty: We know how you feel and what cycling means to you, this is why you are in good hands shopping with us. Numerous Trusted Shops ratings confirm it - feel free to rate us as well!
Retail store with bike workshop in Kronberg:
HIBIKE is more than just a classical mail order vendor or a bicycle discounter. We have more than 1000 square meters in our retail store, where you can not only take a look at lots of bike bust test ride them as well. Our bike enthusiastic colleagues will love to give you expert advice to just about any topic related to bikes, parts and accessories. Our workshop staff can help to deal with both small issues and more complicated one. We can lace up wheels, service your shock and fork, face mill a frame and more. Get to know our bike guru Rainer whom you might know form our Youtube channel. Besides a nice selection of high class bikes of every kind and all top notch brands you can buy all bike parts and you will find a huge range of bike wear in every color and size, no matter if ladies' or men's versions. Some of the items could not find any space in the retail store, these are sitting in our big warehouse. These goods can be tried on and purchased locally as well.
Low shipping costs, easy payment and a slogan that tells everything: "One Love. Bikes!"
Our shipping costs are reasonable and we ship bikes and frames to almost in every country in the world! You can pay via PayPal, credit card or bank/wired transfer. If you are going to pick up your order locally using your electronic cash card as well of course. If you order your apparel and bike parts in the morning, pay immediately and all the goods are in stock we usually can ship your parcel the same day.
Not just a bike store - you will meet lots of like-minded people at HIBIKE. We take cycling seriously and we are pride of it, this is why our slogan is "One Love. Bikes!" No mountain too steep, no descent too fast, no track too dirty - work, ride, sleep and do the same the next day. We offer expert advice and a mighty selection of brands in almost any category you or your bike might need: road bike shoes, bicycle helmets, bike jerseys, cycling gloves, bike backpacks, bike tires, cycle lights, bike trailers, and many more. We have got low priced offers and bargains all year long. Sign up for our newsletter! Here you will get news, promotions and vouchers every week!