Choose a category from our cycling jersey shop:
Buy the jersey which suits you - here in our large cycling jersey shop
A cycling jersey does not only look stylish, it also has to accomplish a lot. Hi-tech materials are used for these jerseys! A jersey for cycling must be hard-wearing and ensures the correct transport of moisture, and consequently keeps you and/or your skin dry. The functional fibres of a good cycling jersey are quick-drying and thus ensure a good dermatological micro-climate. The sweat is transported away from the skin, which works all the better if the functional wear fits snugly on the body. This is exactly the reason, why a cycling jersey is mostly skintight. Moisture on the skin in connection with the airflow instantly brings the cold out, the cold will quickly become uncomfortable and in the end will be responsible for your next cold. Loose jerseys are most often chosen if the rider likes it more casual and easy anyway. Therefore, you will see them more often on the downhill-oriented bikers.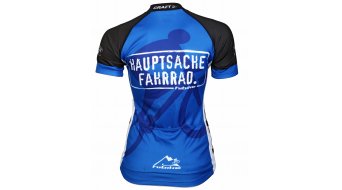 The back, which is a little longer in order to cover the back well in the sportive sitting posture, is generally typical for a cycling jersey. In most of the cases, a cycling jersey will have one or three pockets on the back for stashing energy bars, money, mobile phone or sometimes also a drinking bottle. Modern cycling jerseys score additionally with integrated lens cleaning cloth or water repellant protective pockets for your mobile phone. Reflective materials are being inserted, antibacterial and odour-reducing materials are also used. Whether light summer or warm winter jerseys (thermal jersey), whether sleeveless women's tops for cycling or a loose jersey shirt, discover our large range of articles in our shop for cycling jerseys. Great colour selection, prices affordable for everyone, from the top-class cycling jerseys of the professional teams to the low-cost discontinued models. Since in the end, you will benefit each season from changing collections and this provides you with the chance to get a great cycling jersey at a favourable price. Of course, our own HIBIKE jersey should not be forgotten, the jersey for everyone who loves the sport and wants everyone to know that. It carries the imprint "Hauptsache Fahrrad" (One Love. Bikes!)."!
Jersey materials of today
The correct care will let your jersey make a good impression for a long time. It's worth taking a look at the respective instructions of the manufacturers as to how to wash and care for cycling jerseys (you will find more information regarding this subject in our HIBIKE-blog. The jersey fabrics nowadays are quick-drying, crease-resistent and gently flowing. But the jersey will only fulfill its promise on a permanent basis if you care for it as indicated by the manufacturer. More materials than just cotton are used for the modern sports textiles of functional material. The textile identification will show for each article which materials have been used for the individual jersey. At that, it is important to know what you are wearing on your skin. Materials and/or fibres such as Viscose, Polyamide (nylon) or Elasthane are common nowadays.
Whether a jersey for the mountain bike or the road bike, the fit must be correct
The cycling jersey should have a good fit and be comfortable to wear. No matter in which jersey version you feel good. Whether you prefer a skintight short-sleeve jersey with continuous zipper or the loose fit jersey (a cool, loose cycling jersey) which is preferred by downhill riders / free riders or trail riders. In particular, the race-collections are very popular with downhill pilots, it allows them to go on the trail dressed in the same design as their great heros. Certain team jerseys are particularly popular with ambitious riders, e. g. in the Tour-de-France style. In our shop, we offer you numerous leading brands and a huge selection of men's jerseys, women's jerseys and also children's jerseys - For everyone the right selection since everone needs different fits and cuts.
Tip: You can filter our jerseys for women easily in each individual category by applying the article filter (in the upper right corner). Prior to the purchase, we always recommend to have a look at the size table of the respective brand since international manufacturers offer different sizes. Italien clothing brands for example are known for their clothing to be a little smaller as a rule.